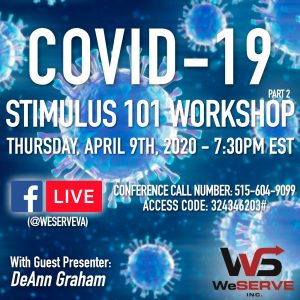 WeSERVE CDC, Inc. will be hosting a second seminar on the resources that are available now because of the COVID-19 Stimulus package approved by Congress.  The following will be covered:
Taxes
Payment Protection Plan (for business owners and self employed)
CARES ACT
SBA Updates: Coronavirus Funding Options
Join us Thursday, April 9, 2020 at 7:30 PM EST on FB Live (facebook.com/weserveva) or on our conference line at 515.604.9099 x324346203#.
Meeting Needs.  Serving Families.  Building Community.